Charmaine wanted more for her two children. With apprehension, she watched her rent increase hundreds of dollars while her wages did not. She dreamed of owning her own home: a place where her children could play without her worrying about them, where she could grow a garden, and where she was in control of who entered her home for repairs. A close friend talked to her about how she could budget for homeownership and gave her the confidence to pursue her dream.
Charmaine had finished her college degree from Portland State University and was working to transition off Section 8 housing assistance. The transition would be significant: once off Section 8, she would essentially not be able to obtain housing assistance again. Charmaine's Section 8 caseworker through Home Forward, an IDA partner of CASA of Oregon, helped her to develop a roadmap for how she would manage without Section 8. To support Charmaine in taking the next steps, the caseworker encouraged her to start an IDA.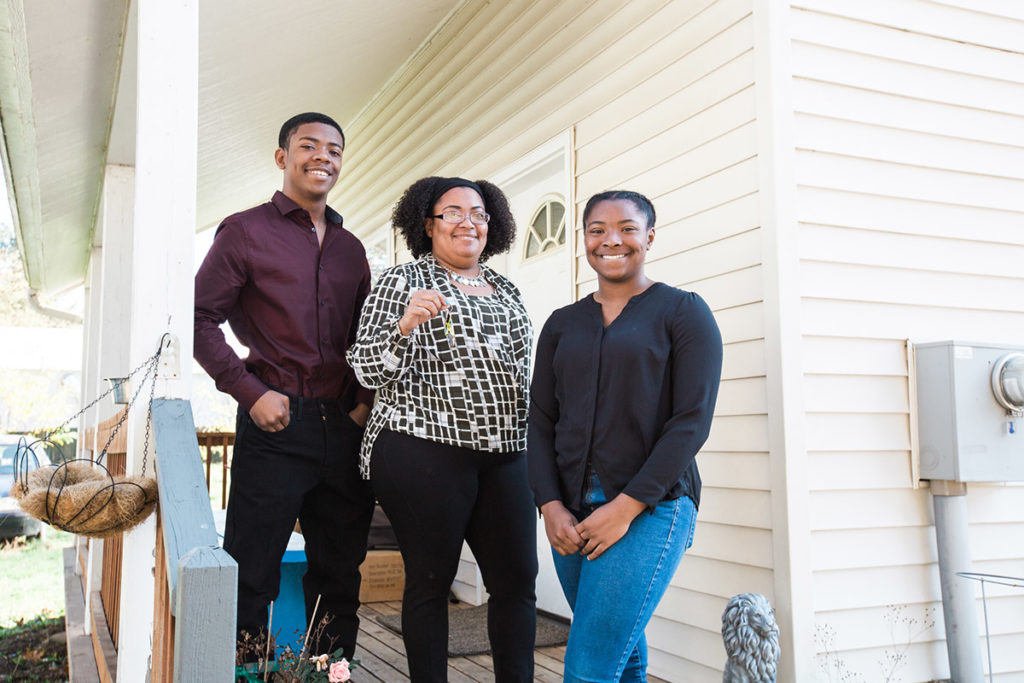 The education through the IDA was the most beneficial. What truly changed me at the end of the day, was the education and the experience of applying it.
"The education through [the IDA] was the most beneficial. What truly changed me at the end of the day, was the education and the experience of applying it," states Charmaine. Saving in an IDA required her to change her spending habits and develop a budget. She had debt to manage and student loans that were exiting deferment. "It was hard, having people look at your spending habits," she explains. "It was like surgery—how they go in and find something. And you don't see it until someone else shows it to you. That was my awakening point. It's hard at first but once you accept it and change it, you benefit."
The IDA experience leveraged a group of resources to partner with Charmaine. Charmaine found that the staff at Sterling Bank, where her IDA was held, were open to answering questions. She explains that it wasn't always easy to make it to the bank, but at the time she was doing a lot of work to rebuild her finances and was concerned that if she automatically transferred the money she would cause an overdraft. She also preferred doing her banking face-to-face.
The homeownership program at NAYA, Native American Youth and Family Center, provided specific homeownership education and connections as Charmaine began the home buying process. Seeing and hearing the stories of others who were achieving their goals was also encouraging. "At the end of the day, I'd feel like I could do it, even though some days it just didn't feel like it," notes Charmaine.
In summer 2016, Charmaine signed the papers to her own home in southeast Portland. The lessons she learned in creating a budget have stuck, and she proudly notes that after more than a year, she hasn't missed a home payment. "I'm proud of myself for that. That's a really big thing for me," she notes.
Looking towards her future, Charmaine states, "There was a dark tunnel, and now there's light. It feels like a goal that I've accomplished. The possibilities are endless now." Gaining ownership is essential to Charmaine: her next goal is to grow a hair product line that she's developed into a viable income for her family. She's named the line Yapheh, a Hebrew word that means beautiful. It's how she wants every woman to feel, and after sharing her experience with the IDA, she's hopeful that they too will be able to access businesses, homes, and other assets of their own.