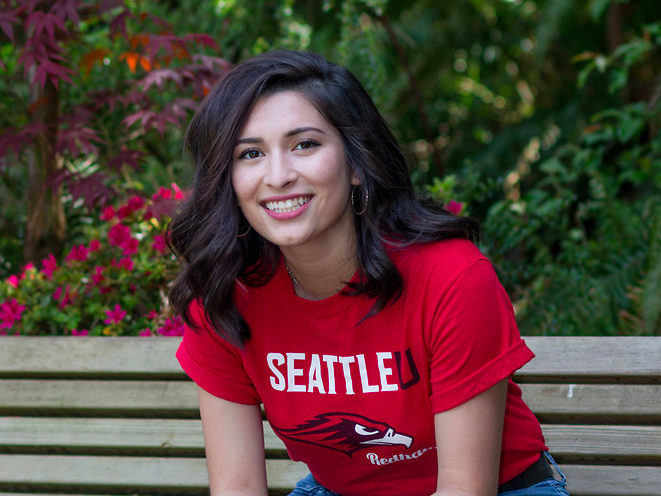 Marta Gamez is from The Dalles, Oregon, where her family has actively worked in agriculture for the past 30 years. Marta is excited to be entering her junior year at Seattle University studying Strategic Communications and minoring in Public Affairs. She is committed to her involvement in programs geared to serve students of color on and off campus. She is heavily involved with the MEChA chapter on campus, is a Student Ambassador for Seattle University's Center for Community Engagement, and is the Vice President of External Affairs on SU's Residence Hall Association. Marta keeps her family's story close to her heart, and acknowledges that she is the product of her parents' hard work and knows that their educational dreams are being realized through her.  With this in mind, Marta aspires to continue advocating for the Latino community in higher education and thanks those that have come before her — as their sacrifices, hard work, and determination have allowed her to stand where she does today.
I am pursuing an educational path at Seattle University with the intent to serve with a non-profit community organization seeking to advocate for college access and success. I am currently pursuing a degree in Strategic Communications and a minor in Public affairs with an emphasis on Nonprofit and Public Administration. I hope to continue advocating for college access and success in the Latino community and merge my passion for student development and Public Relations through engagement in specific communication goals that focus on public advocacy. As I continue to advance in classes that converge public relations with reputation management and public administration/policy, I will be more prepared to pursue a career in the nonprofit sector. This specific educational path I have chosen will allow me to explore diverse perspectives and apply problem-solving skills to analyze and address real-world social problems.
The Building Connections: Construyendo Conexiones project is an effort to bridge the achievement gap present for our community of Latino scholars. My project will provide the necessary tools for our farm-working, Latino population in The Dalles to gain interest and confidence in establishing a well-rooted foundation for the construction of their educational journeys. This project will focus on providing students with relevant examples of success in higher education by focusing on student narratives that can identify with the farm-working experiences and struggles as well as our intersecting identities in the Latino community.
This student run workshop will help our students in the community build connections with our student volunteers who represent various universities across the state and the nation. Our volunteers are asked to share their experiences and gained insight in hopes to inspire our high school students to pursue post secondary education. The workshops will offer information in six areas of focus: Career explorations, College search, Personal Statements, FAFSA, Scholarship application process, and resources on college campuses