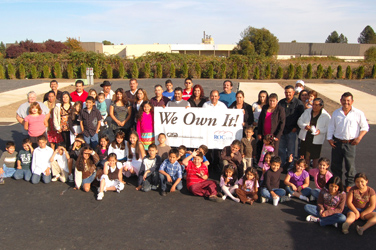 By Dale Strom
Dale Strom is a second generation Manufactured Home Community landlord. He is a Board Member, past President and current Treasurer of MHCO.
This is a multiple part series on a private owner of a Manufactured Home Community willingly attempting to sell that Community to an Association of tenants within that Community. Riverbend MHP is a 39 space community located within the city limits of Clatskanie, OR. In the first part of this series, the motivation of the owner is revealed on why he wanted to work with CASA of Oregon exclusively rather than offering this Community for sale to all interested parties. There came that time when I knew it is time to get out. This has also occurred several times in my life about situations and commitments that I was in. This is the time that I want to consider getting out of one of my communities. For good. No, I don't want to look at the Federal IRS code 1031 where I can exchange a real estate property for another like kind property. I mean for good! In the years that MHCO has been involved with the Landlord Tenant Coalition, many aspects of the relationship that Landlords have with Tenants have been discussed. Differences of opinion and understandings have been hashed out. And laws in the Oregon Revised Statutes have been created or at the very least… have been revised. At the beginning of this decade, a Statewide group going by the name of CASA of Oregon thought that they could start a program where tenants of manufactured home communities could organize, research (with due diligence), negotiate with a seller, close and finally operate a facility. (Would love to see how an organized park owned group will handle a late rent check, dog poop in a common area that can be traced back to the dog and its owner, or God forbid, an abandonment).
State law currently requires a potential seller (which is me in this case) to contact the tenants in the community to state the sellers intentions, and gives those tenants an opportunity to form an Association for the purposes of acquiring that community. The interesting point of this is I want out. No more looking for other properties. No more looking at Cap Rates. No more P&L's. No more due diligence. No more 1031's. Out, for good! Realize now that when sold, the tax collector will come knocking asking for their cut. The IRS will. But what about the Oregon Department of Revenue?
According to John VanLandingham, an attorney at Lane County Legal Aid and the Oregon Law Center "The capital gains breaks are found in the Oregon Revised Statutes following ORS 317.401 (for corporate taxes) and ORS 316.792 (for personal taxes). The specific language, for the corporate exemption (the personal tax exemption one is
similar, but in different sections), is:

Note: Sections 9 and 10 (1), chapter 826, Oregon Laws 2005, provide:

Sec. 9. Amounts received as a result of the sale of a manufactured dwelling park to a corporate entity formed by the tenants of the park, or by a nonprofit corporation or housing authority, as described in section 2, chapter 89, Oregon Laws 2014 [90.844], are exempt from the tax imposed by this chapter. [2005 c.826 §9; 2014 c.89 §17; 2015 c.217 §10]
Sec. 10. (1) Section 9, chapter 826, Oregon Laws 2005, applies to tax years beginning on or after January 1, 2006, and before January 1, 2020. [2005 c.826 §10; 2007 c.906 §22; 2013 c.750 §37; 2015 c.217 §15(1)]"
In other words, the sale of a MHP to the tenants of that MHP can have their Capital Gain waived by the state of Oregon. The amount of the sale less the basis of the sale would normally be taxed at an 11% rate. A sale to the tenants would eliminate this taking by the ODR.
Part two of this series will run next week.
Dale Strom is a second generation Manufactured Home Community landlord. He is a Board Member, past President and current Treasurer of MHCO.