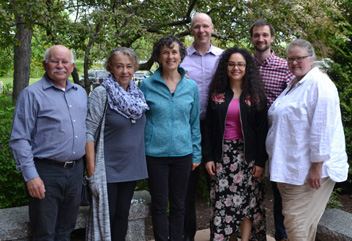 [us_image image="8943″ size="full" align="left"][us_separator]
CONCORD, N.H. – Four days of collaboration and learning new skills will help strengthen the work of the newest Certified Technical Assistance Provider staff in the ROC USA® Network.
Four team members from two Network affiliates – Cristina Klatovsky from ROC Northwest, along with Barbara Fryer, Ariana Barajas and Daniel Bullock from Casa of Oregon – came to the latest round of CTAP 101 this week to learn about the best practices for the work in the field.
The agenda covered everything from pre-purchase to post-purchase work and the resources they can use to help with that work, as well as market development and strategic planning.
The team at ROC-NH, a program of the New Hampshire Community Loan Fund, also invited the group to sit in on their weekly meeting and learn about their process.
For Mary O'Hara, Director of ROC USA Network, the training allows for collaboration and the opportunity to share experiences while learning new skills to take into the field.
"The most important part of CTAP 101 is the relationships that develop," she said. "We get to see how each other thinks, how we process information and how to share information with each other. All of that ultimately results in better service for ROCs."
ROC USA Network consists of nine Certified Technical Assistance Providers who work with the 220 ROCs in 15 states  — CASA of Oregon, Cooperative Development Institute, Northcountry Cooperative Foundation, NeighborWorks® Montana, PathStone, ROC-NH, ROC Northwest, Thistle and UROC.